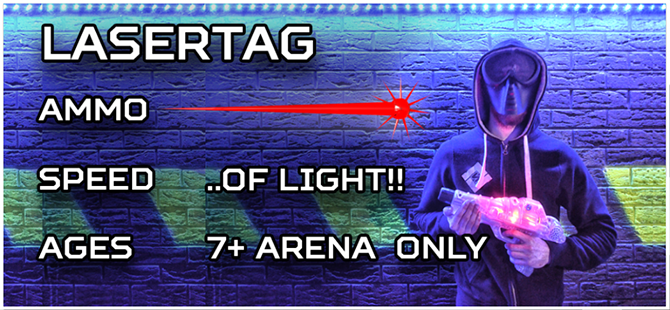 Laser Tag
We are proud to be one of Ireland's biggest and best Laser Tag Centres and with over 7,500sq.ft. of blacklight combat arenas along with the latest Laser Tag system that lets you see laser beams fire from your gun and others' as they try to shoot you! Played in a dense fog, with flashing lights and pumping music. Defend your team, attack the other team or play solo games get ready for an experience like no other! It's time to LOCK N LOAD!!
Prices and details
(Minimum 4 players, Ages 7+)
40 Minutes of gaming - £10 per person
60 Minutes of gaming - £13. p.p.
80 Minutes of gaming - £15 p.p.
OFFERS
Have more than 10 players get 60 minutes of gaming for £10
Have more than 20 players contact us for further discounts!!
Please check our Facebook page for the latest weekly offers
LASER TAG PARTIES
Experience the ideal party atmosphere here at Lock n Load- the ultimate laser adventure! We specialise in birthday parties for a range of age groups. We can provide as much as you like from invitations, food and party bags. We have everything covered for a stress-free and most importantly FUN party.
We have two party package options available that suit different sizes of groups, ages and budgets. Our 1st is played in our 5,000 sqft arena and the 2 is played in our 2,500 sqft arena. We recommend visiting us and checking the place out we're sure you won't be disappointed!!
PARTY PACKAGE Ages 7+
Lock n Load Invitations
3 x Laser Missions in LEVEL 2 ARENA 5,500sq ft(1 hour approx)
Party Host
2 Free Lock n Load Passes for host for later date
Complimentary Juice
Complimentary Tea & Coffee
Party booth
Party Bags
Up to 10 players
This lasts for a total of 1 hour 40min
£120.
Add additional players for only £10.
Have 20 or more players? get exclusive use of our arena for your party (please note you will be charged for a minimum of 20 if you do book this option)
OPTIONAL EXTRAS (PLEASE SPECIFY WHEN BOOKING)
Box Meals -£3 p.p. (Burger/Cheeseburger/Nuggets/Sausages/Hotdog with chips and a drink)
Or you are welcome to bring your own party food.
Health & Safety
Health and safety is our number one priority and we ask everyone to abide by the rules given in the safety briefing before playing. We are also very strict on ages and will refuse entry if we feel someone is not of the right age for the activity being played.