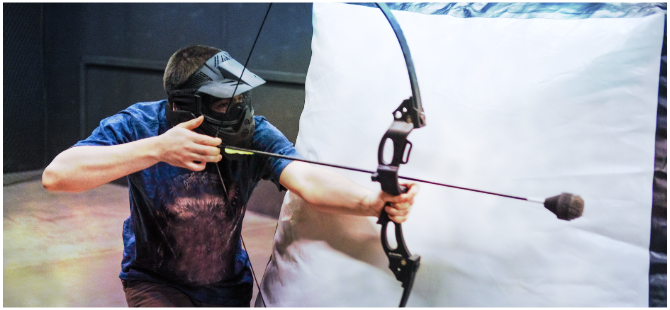 Archery Tag AGES 10+
Become your own arrow wielding hero! Shoot arrows with foam tips at your opponents or targets set around the battleground! We feel this is best played in large open spaces like indoor halls or outdoor fields where we set up our inflatable bunkers and hold matches for 20 players at a time! We'd recommend smaller groups of no more than 8 at our indoor centre!
Groups of 4 or more
20 Minutes gaming - £15
40 Minutes - £20
Please note you should add additional time on top of gaming time approx 20min this is for a safety briefing and game rules we normally have a small 5min break between missions too!
We recommend wearing older clothes/hooded tops and trainers.
Portable hire
Whether it's for a party, staff do, club outing or just for kicks get a few of the crew together for adrenalin-filled fun with an airsoft gun. Play team missions or solo games take your pick from our selection of games such as team deathmatch, capture the flag, rob the bank and many more!

Local area (up to 10 miles from our centre)
From £100
2 hours hire of bunkers and equipment
Add a Lock n Load member of staff to run the event for £50
It takes 25 minutes to set up the battlefield so if you're hiring a hall or sports ground please be aware when booking them to allow this time.
For all other areas outside the radius of 10miles from our centre please get in contact for individual quotes.
Health & Safety
Health and safety is our number one priority and we ask everyone to abide by the rules given in the safety briefing before playing. We are also very strict on ages and will refuse entry if we feel someone is not of the right age for the activity being played.