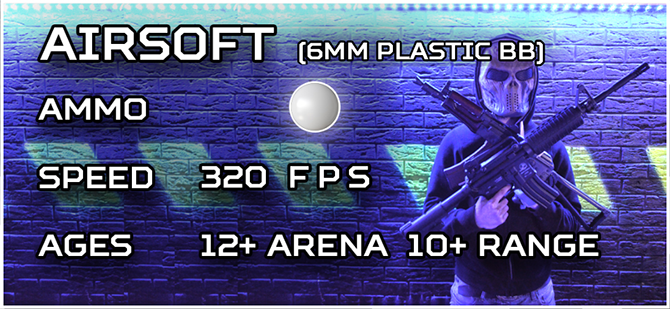 Airsoft Ages 12+ (Arena)
Your mission starts in our newly refurbished arena in close quarter battle shooting 6mm plastic BB's from full-scale weapons such AK's, M4's, G36's and Shotguns. Choose your mission type from a long list e.g. capture the flag, bomb deploy, protect the president. Play in tactical team games or go in it alone and be the last one standing
Groups of 4 or more
40 Minutes gaming - £25
60 Minutes - £30
80 Minutes - £35
Please note you should add additional time on top of gaming time approx 30min this is for a safety briefing and game rules we normally have a small 5min break between missions too!
This also includes Rental of Gun, Mask, Body Armour and all the ammo that you'll need no sneaky refill prices here! We recommend wearing old clothes, hooded tops or beanie hats and trainers.
GROUP BOOKINGS of 8 or more
Whether it's for a party, staff do, club outing or just for kicks get a few of the crew together for adrenalin-filled fun with an airsoft gun. Play team missions or solo games take your pick from our selection of games such as team deathmatch, capture the flag, rob the bank and many more!
1-hour airsoft gaming (this normally takes 3 or 4 missions depending on game mode and if the objective is completed in a quick time)
All ammo covered in the cost you won't be hit in the pocket for refills at LnL
Private use of Battle Arena and Party Room
Time length 2 hours approx
Cost £25 per player (discount available with higher group numbers)
This also includes Rental of Gun, Mask, Body Armour and Neck. We recommend wearing old clothes, hooded tops, beanie hats and trainers.
OPTIONAL EXTRAS (PLEASE SPECIFY WHEN BOOKING)
Box Meals - £3 p.p. (Burger/Cheeseburger. Nuggets, Sausages or Hotdog all come with chips and a drink)
GOT YOUR OWN GEAR OR LOOKING TO GET INTO THE SPORT?
Open Airsoft Games are on every week normally Tuesdays evenings and Saturdays at our new outdoor woodland site based in Creggan Country Park! All updated dates and events will be posted to our Facebook page. We also have membership packages that get you discounts on consumables like bb's, gas and we try to beat all online prices for any airsoft gun! Contact us today for more info we'd love to hear from you!
EXCLUSIVE HIRE OF FULL VENUE AVAILABLE ON REQUEST
Health & Safety
Health and safety is our number one priority and we ask everyone to abide by the rules given in the safety briefing before playing. We are also very strict on ages and will refuse entry if we feel someone is not of the right age for the activity being played.